Cupar is by tradition a market town and the farmers market sits well in the town centre setting, with up to 30 stallholders offering a great range of produce it is a busy market.
Muddy Boots Café is a fabulous place to enjoy great home-cooked food in unique surroundings.
From inside the café, snuggled around the central log burning stove, enjoy meals from our delicious menu, or a hot drink and home-baked cake. Even if the weather outside is less than welcoming, you are assured of a warm welcome inside.
During the warmer weather, we have a beautiful garden outside the café with seating area so you can make the best of the Scottish sunshine. Our seasonal menu reflects the changing times of year, and makes the most of the fresh fruit and vegetables we grow on our farm.
What's more, because we are family run, we understand the challenges of eating with little ones in tow. So we've got a whole stack (literally) of Duplo building bricks to keep everyone occupied, even if it is just for 5 minutes!
Orangic shop, cafe and grower
Pittormie Fruit Farm is a small intensive family run farm situated in the heart of North East Fife. Our aim is to produce quality fresh food which has real flavour – so we try to keep the use of chemicals to an absolute minimum.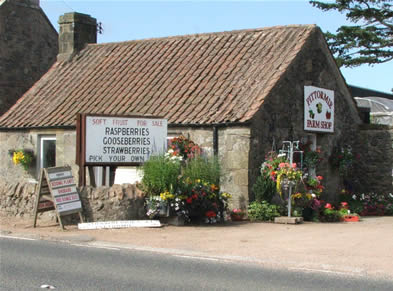 The farm shop is stocked with fresh seasonal fruit and vegetables, alongside our superb free range eggs from our 'gaun aboot hens'. Within the shop we stock our own range of jams, jellies, marmalade, chutney and lemon curd. Also available is the Heather Ales range of fruit beers and Cairn O Mohr's range of fruit wines.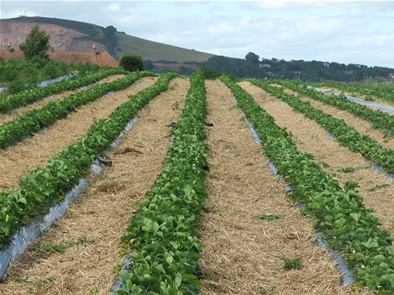 There's the opportunity to stop off at the farm and buy ready picked. We take orders of any size and can have these made up ready for collection. We can also supply fruit to the wholesale trade.
Our hens don't stop laying when the fruit season finishes so the 'Egg Shed' is opened when the farm shop closes at the end of the summer. In the shed you can continue to get your fresh eggs as well as our potatoes, jams and winter vegetables. We freeze fruit when it is at it's best in season to provide a supply right through the winter and spring.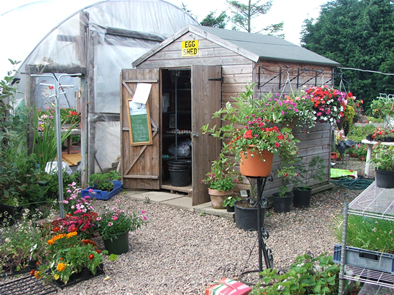 The season for the nursery begins in late April with the bedding plants individually grown for maximum flexibility of choice when filling tubs and hanging baskets.
Built well over a century ago, the Rhynd has been owned by the Foster family since the early 1950s, and up until the late 1990s the space was a working farm. The café used to be a grain store while the event space was a cattle shed. At the café we make delicious, home-cooked, locally sourced food. Come and give us a try – we're only five minutes from Tentsmuir Beach!